How to Prevent Gambling Addiction
Gambling may be unhealthy when it captures your mind and turns into addiction. That's why it's vital to know about risks and measures aimed at preventing gambling addiction.
Gambling addiction is a mental disorder which negatively impacts your life and disrupts relations with the close ones, co-workers, and friends. It's always easier to prevent a problem than to cure it afterwards, so make sure that you are aware of the following approaches:
Know the enemy. Learn about casinos' tricks like LDWs and don't let them fool you. Remember that gambling companies want your money, always.
Control yourself. Set money and time limits for playing. A lot of gambling websites feature customizable automated dashboards.
Take breaks. Rest from games to refresh your mind, think about other tasks, and talk to relatives or friends.
Don't expect to win. Consider gambling as a hobby, not a source of income – the casinos always win in the long run.
Don't seek solace in casinos. Avoid dealing with other problems via gambling as it will only aggravate them, just like drugs or alcohol do.
Gambling Addiction is a Mental Health Disorder
The World Health Organization recognizes the described addiction as a mental illness. ICD-10 include "pathological gambling" (F63.0) in the "Disorders of adult personality and behavior" (F60-69) section.
Risk Factors of Problem Gambling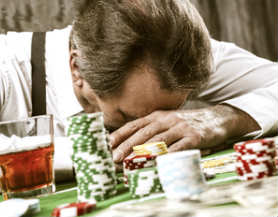 Various studies show that young compulsive gamblers also have other addictions and behavioral disorders. Risk factors for these problems are often similar.
This means that by exploring and preventing such risks, parents can keep their children away from gambling, alcohol, and drug addictions.
Accessibility
Areas with accessible gambling environments attract more visitors and earn more from them. Accordingly, the number of compulsive gamblers rises. In the era of online casinos, the entire world slowly turns into the area with widely accessible gambling.
Source: Dickson et. al., 2002.
Lack of Community Awareness
If the community underestimates addictions (especially, gambling addiction), it can't prevent or fight them properly. Parents and teachers who don't know about threats of underage gambling make children more vulnerable to becoming addicts.
Source: Dickson et. al., 2002.
Social Acceptance
Although the modern world promotes responsible gambling, it generally accepts such activity. But fragile young minds can hardly resist this pattern of global acceptance, so they start playing and feed their addictions.
Source: Stinchfield & Winters, 1998.
Media/Television Lottery Ads
This point is related to the previous one as promo campaigns, TV, and Internet ads force gamblers to play more and more. It has been found that young people who watch lottery ads are more likely to engage in this type of gambling.
Source: Carlson & Moore, 1998.
Family History of Addiction, Illegal Activity
Children of problem gamblers are more susceptible to addictions, too. Scientists suggest supervising these kids to avoid risks.
Source: Dickson et. al., 2002.
Family Attitudes and Involvement
In general, gambling addicts start playing at an early age with their parents, brothers or sisters. Hence, prevention programs should be introduced in elementary and middle schools.
Source: Gupta & Derevensky, 1997; Carlson & Moore, 1998.
Lack of Parental Objection to Youth Gambling
Furthermore, even parents who know that their kids gamble don't object to this activity which leads to the feeling of freedom and impunity.
Source: Ladouceur & Mireault, 1988.
Poor Impulse Control
The kid's impulsivity at school may lead to the emergence of gambling addiction. Combined with aggression and hyperactivity, it's even more dangerous.
Source: Vitaro, Arsenault, & Tremblay, 1999; Zimmerman et al., 1985.
Delinquency and Persistent Problem Behaviors
Young gamblers who are at risk also suffer from other addictions and even may be involved in criminal activities.
Study: Ladouceur et al., 1994; Maden et al., 1992; Omnifacts, 1993; Stinchfield, 2000; Winters, Stinchfield, & Fulkerson, 1993.
Peers Influence Gambling Behaviors
Youngsters tend to pattern themselves after peers and follow their hobbies. 44% of young gamblers admitted that they started playing because of their friends' involvement.
Study: Browne & Brown, 1994; Fisher, 1995; Griffiths, 1990; Powell, 2003.
Early Win, Early Onset of Gambling Experiences
The earlier the person starts gambling, the more vulnerable they are to addiction. In addition, early wins lead to future problems because a gambler will expect constant success which is literally impossible.
Study: Griffiths, 1995; Gupta & Derevensky, 1997, 1998a; Wallisch, 1995; Winters et al., 1993.
Gender
Males are more vulnerable to gambling threats as they tend to play more often and wager more. On average, men have higher stakes and higher winnings as they are more risk-taking.
Study: various scientists.  
Depression
It's widely known that gambling and mental disorders are interrelated. Especially, depression is dangerous for adolescents who face this problem if they are addicted to gambling.
Study: Gupta & Derevensky, 1998a, 1998b.
Gambling Prevention Tips
As a bonus, look at valuable tips and hints related to preventing pathological gambling:
Take it easy and think about entertainment or social interaction
Know how much you can afford to lose
Set money and time limits
Play with cash only and don't link cards to your account
Avoid borrowing money for gambling
Visit casinos with friends who are non-gamblers
Study laws and make sure you gamble legally
Don't play when you are drunk, in depression or seeking escape
Accept losing
Conclusion
Summarizing the findings, we can see that the peers and community have a great influence on gambling addicts, including kids and adolescents. Parents who don't care about their children also foster addictions. That's why different prevention strategies are useful – they help to educate both gamblers and their close ones, so that all parties are aware of threats.